Food Packaging Solutions
Our FSC-certified carryout and catering boxes come in a variety of standard sizes.
We also provide custom packaging solutions including custom design and packaging branding.
Leak and grease-resistant food containers in a variety of volume and finish options.
Two-cell, Three-cell and accordion-style dividers that separate food items during transport.
Anti-Fog window material to display your food. Our fold-over lid provides a maximum viewing area.
High gloss-coated, stain-resistant and built for large meal delivery or grab-and-go meals.
Small meal/item boxes that are vented and designed to tuck-and-lock close. Sturdy enough for stacking.
Combine multiple meal dishes or ingredients in a sturdy cube. Ensures food consistency during delivery.
Insulated bags designed to enclose MeyerPak packaging. Keeps hot food hot and cold food cold.
Serving a Variety of Markets
MeyerPak provides food packaging solutions to serve markets including bakeries, casual and fine dining, colleges, corporate dining and supermarkets.
Custom Packaging Solutions
Enhance your customer experience with custom-designed packaging.  FC Meyer's creative team will work with you to create unique, branded take-out packaging.
Sustainable Manufacturing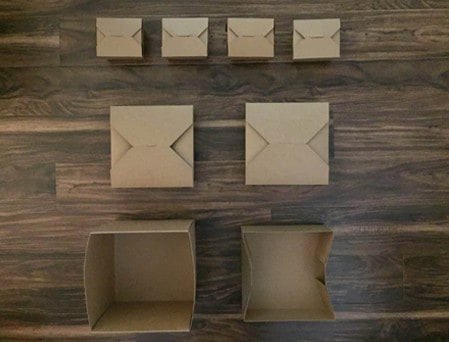 FC Meyer Packaging is FSC Certified.  The paperboard material in our Kraft MeyerPak™ products are made from 100% recycled fibre that is composed of 85% post-consumer waste content
MeyerCube Catering Box
Combine several of our smaller take out carton options into a MeyerCube catering box for a full meal delivery. MeyerCube catering boxes are designed to hold individual MeyerPak take out packages to keep food-stuffs separate.
MeyerPak is an innovator in takeout packaging design and manufacturing, leading to more efficient food delivery with minimal loss of food quality.